Team Member: Kathy Muench, Snow Biking…Mountain Biking…Skiing..You name it, she's doing it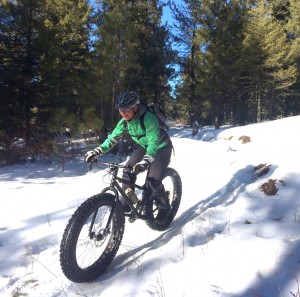 Kathy, her husband and her 2 dogs relocated to McCall from Steamboat Springs, CO over 11 years ago. Having lived in the mountains for many years, McCall was the perfect fit with it's small town atmosphere and it's abundance of outdoor recreation.
It's undecided which season is her favorite. Whether it's any form of skiing or any form of biking, boring is not an adjective that describes her lifestyle.
When she is not working her real job as a magazine publisher, she's helping customers at Gravity. She's firmly convinced working with a bunch of rad hipsters is keeping her from permanently leaving the "world of the young." So next time you see her and she asks "what's good," know she's not referring to the daily special @ Evening Rise!